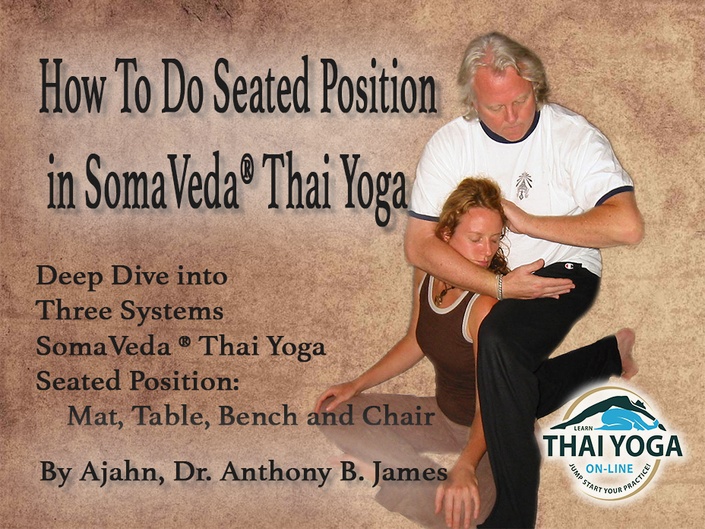 Mastering the Seated Attitude in SomaVeda® Thai Yoga
How To Do Seated Position in SomaVeda® Thai Yoga Therapy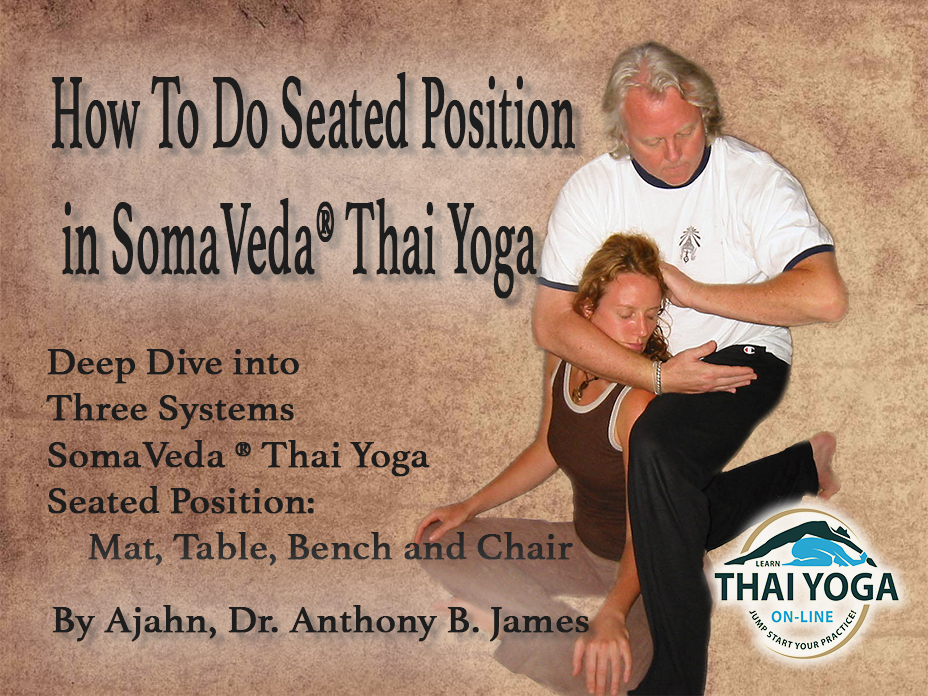 Mastering the Seated Attitude in SomaVeda® Thai Yoga: Deep Dive into SomaVeda ® Thai Yoga Seated Position

Join me, Ajahn Dr. Anthony B. James in a terrific deep dive into one of the most famous and functional asanas of the SomaVeda® Thai Yoga system. SOmaVeda® Thai Yoga is based on I.T.T.M. (Indigenous Traditional Thai Medicine) and specifically on the "Marma Chikitsa" or "Ryksaa Thang Nuad Phaen Born Thai," as the Thai people say it.
Traditional Thai Ayurveda, although a cogent system of traditional and indigenous medicine, is strongly influenced by the geographies, regions, and people who have held it dear and practiced it in one form or another for centuries. If you're into Thai Medical Anthropology, I recommend my Thai Ayurveda textbook we use in class. It has one of the best-researched histories of our traditions anywhere in print. ( BeardedMedia.com )
The "Thai Yoga SEATED" asana or position is one of the five (5) traditional therapeutic Yoga asana or postures that we position our clients in to receive treatment, therapy, or healing. However, it's not so simple. Anyway, you can position a client upright or semi-upright on the traditional floor mat, Massage Table, Massage Chair, Portable massage chair, Knee bench, Lajiin Table, or ground is all technically still a "Seated" position, and there are applications and variations suitable. Consider the length of time we have in our traditional lineage sources been practicing the seated emphasis in therapy... centuries ... and you should see easily how we can have both variety and sophistication of application.
WHAT'S IN THIS COURSE?
In this SomaVeda® Thai Yoga "Seated" position course, you will be exposed to Seated positions from three distinct regions of Thailand with variations and applications from very basic to quite advanced in each. So look for flows or Vinyaysa that you can do the first time you see them to sequences or individual techniques that might take you a couple of years to master! I'm going to be honest here... some technical and or medical/clinical applications require in-person, live training and coaching with a Master like myself... However, there is more than ample "right away" content right here to get you started.

Most therapists use this seated position as an emphasis in a longer or more comprehensive type of session which may involve one or more other attitudes of emphasis or all of them! This can lead to lengthy sessions. However, it has always been appropriate from a traditional point of view to break out one or more attitudes for a particular or more "Specific to the client's necessity" type of treatment pathway.
No matter the necessity, we always begin and end with Puja or Prayer for the healing and well-being of the client and their life. Adding or emphasizing Puja brings the spiritual approach or "Energy Quanta" of always addressing the Spirit, Mind, and Body in every treatment. We believe it is not "Thai" or "Traditional" without the spiritual emphasis. Without the spiritual emphasis, you are just "Rubbing" someone.
Because of the regional and local emphasis over centuries, there are different "Schools" or traditional "Ways" to do the seated position. Within those colloquial or local schools, there are varietal emphases, applications, and the interjection of different apparatuses or tools, in this case example, the "Chair".

Seated can be done simply on the ground.
Seated can be done on a Massage Table.
Seated can be done on almost any common chair, stool or seated bench.
Seated can be done on a Portable or purpose built stationary Massage Chair.
Seated can be done on a Lajiin Table (Chinese Style)
Seated can be done on a Knee Bench
Seated can be done on a Chiropractic, Physical Therapy, Orthopedic or Osteopathic application.
This list is not meant to be all inclusive... Once you know what to do use your imagination and send me a note or photo!
As always here at LearnThaiYoga, if you have questions you can reach out to me anytime by email or Phone for questions. Also every lesson has a way for you to comment or ask questions while logged into the course. Use the in course comment box for quick replies as it tells me your a registered student.
If you like the educational and clinical material I'm giving you access to here, please do comment and share with your friends, fellow therapist and healers and family. Help me get the word out and support this platform!
Cheers, Ajahn Dr. Anthony B. James

Course Curriculum
Level One Seated Materials: Eclectic Basic
Available in days
days after you enroll
Royal Method- Southern Style, Level Two Seated Position Breakouts
Available in days
days after you enroll
Lanna, Hilltribe and or Northern Style Seated Flows and Postures
Available in days
days after you enroll
Your Instructor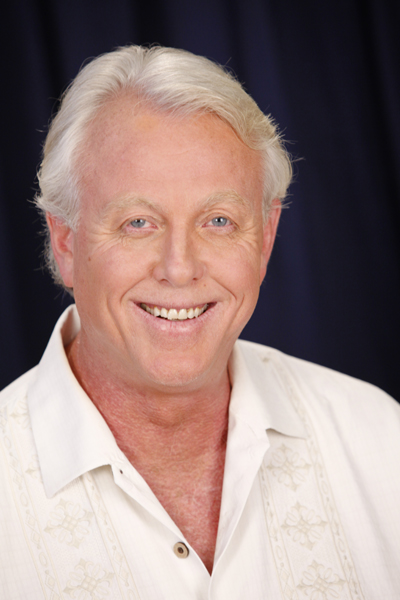 Prof. Anthony B. James MSc.(Clinical Herbology), DNM(C), ND(T), MD(AM), DOM(Acu), DPHC(h.c.), Ph.D. (IM), Ph.D. (Hospitaller Medicine h.c.), DMM, RAAP, UTTS, MSGR./CHEV., Ordained Native Monsignor-Native Bishop, Eastern Orthodox Catholic Church of the East in Brazil, Dean, Professor, Director of Education and Traditional Medicine AAPNA.Advisory Board Member
Professor- Teacher, Physician, Registered Ayurveda Doctor (Vidya), Chriistian Minister, Healer, Therapist... Florida, USA
Anthony B. James was one of the first Westerners ever recognized in Thailand as an authentic Thai Traditional Medicine teacher and Ajahn or professor; where his work is known and honored throughout the country by the Royal Thai Gov't Ministries of Thai Traditional Medicine, Thai Department of Commerce and Tourism Authority of Thailand (TOT- Friend of Thailand Awardee recipient), Wat Po Association of Thai Traditional Medical Schools registered AJAHN (Ajahn)/ Professor of Thai Traditional Medicine. He is a teacher of Thai Ayurveda, Classical Indian Ayurveda, Yoga, and Vedic astrology (Thai Korosot Astrology), who shows how Yoga and Vedic systems of knowledge interface for optimizing our human potential.

A.A.P.N.A. Advisory Board Member and Registered Ayurvedic Doctor R.A.D. (A.A.P.N.A.) practicing Ayurveda Medicine and therapy for over 39 years. His books include "Ayurveda of Thailand- The A.A.P.N.A. Veda Vyasa Award Recipient for 2017", "Ayurveda and Thai Yoga, Religious Therapeutics Theory and Practice," as several Telly Award-winning Video Documentaries on Thai Traditional Medicine and Thai Yoga Therapy. He is currently the director of the N.A.I.C.: American College of Natural Medicine, A.C.N.M.School of Ayurveda Medicine and Thai Yoga Center, Staff and Faculty for Oriental Medicine Doctoral program of the PanAmerican School of Natural Medicine- Nevis West Indies, and on the editorial board for the magazine "International Journal of Complimentary and Alternative Medicine."
Dr. James has a forty-year background in natural healing, including the systems of Native American Medicine, Thai Ayurveda, Classical Indian Ayurveda, Chinese Medicine, Western Herbalism, and Vedic Astrology. He has an M.D.(AM) degree, Board Certified Naturopathic Degree, two doctoral degrees in Natural Medicine, an O.M.D. (Acupuncture), and a doctorate/Ph.D. in Indigenous Medicine and Monastic Medicine. Dr. James also holds a Masters's in Clinical Herbology and has taught herbal medicine for several years. He is the dean of the A.C.N.M.: American College of Natural Medicine, the School of Ayurveda Medicine, and the Thai Yoga Center schools and programs. Dr. James is the author of numerous books, articles, and hundreds of educational videos focused on Ayurveda and related topics. For many years, he has presented seminars and at national and international medical conferences, including A.A.P.N.A.

In addition to his interest and research into his family's Native American Religious and medical heritage, Dr. James is an ordained priest and Monsignor of the Sacred Medical Order of The Church of Hope (S.M.O.CH./ S.M.O.K.H.). The Church of Hope is a unique and sacred ministry of monastic medicine, sanctified healing, ecclesiastical medicine, holistic medicine, and indigenous medicines as part of religious doctrine, where he is working to integrate Ayurveda and Complimentary Medicine into the Monastic Medical Tradition of the church.
In September 2016, Ajahn James published a comprehensive textbook titled "Ayurveda of Thailand: Indigenous Traditional Thai Medicine and Yoga Therapy, "Meta Journal Press. This new book details Ayurveda's authentic history and genuine practices, philosophy, and religious therapeutics in Thailand.
November 30th. 2009, Ajahn, Dr. Anthony James receives LifeTime Membership Recognition with the Union of Thai Traditional Medicine Society (U.T.T.S.). The award was presented by Mr. Aram Amaradit (Dr. Amratisha), Member of Parliament of Surin Province, Chairman of the Committee on Public Health, President, and founder: Of the Union of Thai Traditional Medicine Society, Ministry on Public Health, Thailand. U.T.T.S. Life Time recognition (Thai Traditional Medicine/ Thai Traditional Massage) credentials #520121896. The credentials were issued in the offices of The Union of Thai Traditional Medicine Society, Ministry of Public Health, Nonthaburi, Thailand.
Ajahn, Dr. James studied under the former Grandmaster Ajahn Sintorn Chaichagun at the Shivagakomarpaj Traditional Medicine Hospital in Chiang Mai, Thailand, from 1988 to 1995. He maintained a working relationship with his mentor in the Northern style, Grand Master Sintorn, and "The Old Medicine Hospital" until Grand Master Sintorn's passing in 2005.
Ajahn, Dr. James was the original founder and chief Teacher for the International Thai Therapists Association 1992-2012, to fairly represent the traditional Thai Yoga and Thai Massage practiced primarily in the US. Dr. James specializes in Native American Medicine, Thai medical theory, Asian history, Ayurveda, and Theravada Buddhism. In 2006, he was granted Ajahn/ professor and Master Thai Traditional Medicine: Thai Yoga/ Thai Massage Teacher status through the Anantasuk system (Hua Hin Thailand), recognized by the Wat Po Association. The Wangklaikangwon Industrial College Dean and Educational Director, Dr. Surasak Srinoi, presented the award.
Frequently Asked Questions
When does the course start and finish?
The course starts now and never ends! It is a completely self-paced online course - you decide when you start and when you finish. As long as you subscribe, you get unlimited access to existing and new updates for this course.
How long do I have access to the course?
How does lifetime access sound? After enrolling, you have unlimited access to this course for as long as you like - across any and all devices you own. Simply maintain an active subscription and you have unlimited access!
What if I am unhappy with the course?
We would never want you to be unhappy! If you are unsatisfied with your purchase, you may cancel your subscription at any time. The effective cancellation will be the first of the full month following your initial subscription. Please feel comfortable to contact us at any time concerning your membership.
This course is closed for enrollment.