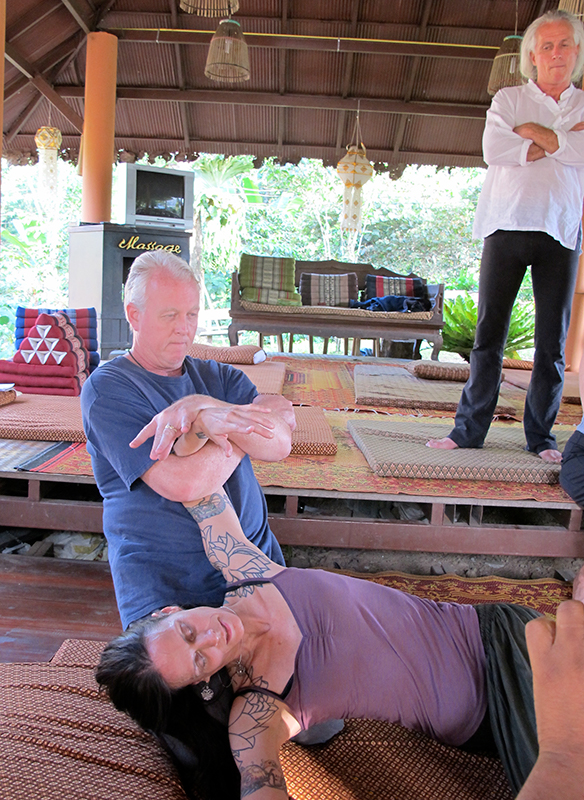 Our core modality has a historical record of use as spiritual healing practice, documented for over 1000 years. Our traditionally based system is directly and authentically chartered and recognized as a continuation of the ancient Thai Yoga Reishi tradition. SomaVeda® Thai Yoga Therapy, defined as the "Practical Expression of Loving Kindness" offers a solid foundation in energetic, spiritual and physical modalities for promoting well being and long life.
For modern therapist, healing practitioners, bodyworkers, Massage Therapist or all of the above. This traditional therapeutic approach is a breakthrough in variety of practical and refined tools and methodologies to reduce pain and suffering for patients, clients and communicants. It is as good for the practitioner, the doer as it is for the receiver, client or patient. Not many healing methods can say this with certainty! In fact the reason your looking at this course could be because your healing and or medical therapy livelyhood is suffering because your becoming disabled BECAUSE of the healing work you do!
Lets work together to change this. Give new life and freshness to your practice. Save your hands! Increase, double or more your income by being able to offer fresh, new and proven strategies and techniques to your practice. If you want or need competency based certification and or a college degree in Ayurveda we can assist with that though our physical school located in beautiful Brooksville FLorida. More on that later!

Thai Yoga Therapy (Thai Massage/ Traditional Thai Massage: slang) including specific styles such as SomaVeda® are also systems of movement education, dancing meditation and therapy, movement repatterning, and all of the applications of traditional Asana, Flows, Techniques, Prana Yama, Meditations and movements are specifically intended to affect the mind, body, spirit, emotions and human energy field in one way or another.